MamyPoko Pants EXTRA ABSORB
MamyPoko Pants EXTRA ABSORB
Product Highlights
It has Crisscross Absorbent sheet which absorbs 7 glasses of urine & spreads it evenly

Diaper does not get heavy because urine does not get collected at one place because of its crisscross absorbent sheet

It has stretchable thigh support which prevents thigh gaps and hence prevents leakage.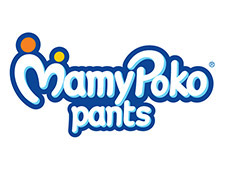 Unicharm was founded in 1961 in Japan and started with Baby diapers range since 1981. To provide the best products possible, Unicharm use state-of-the-art production technology, the highest quality raw materials and fully automated machines. Unicharm sells in 14 countries across Asia and serves 2.5 billion consumers. With MamyPoko diapers and Sofy sanitary napkins as their core products, they have emerged as the market leader in many of these countries.
---
---
Information about MamyPoko Extra Absorb Diaper Pants
We're the innovators of India's first Pant Style Diapers and also believers in creating a healthy environment for your babies using premium Japanese technology. MamyPoko supports the growth of a baby and makes sure that it stays happy, healthy and hygienic throughout the different stages of its growth. MamyPoko's main focus is on lending the mother a helping hand as she makes decisions on how to best take care of her baby. We will always give preference to protecting the beautiful relation between a mother and her baby rather than selling our products.
WHY MAMYPOKO?
The small daily growth of a child gives great joy to its mother. The MamyPoko brand, with its high quality and advanced features, supports parents by reducing the burden of child-rearing tasks and enhancing the joy of child-raising.
---
HOW TO USE MAMYPOKO PANTS?
HOW TO WEAR?
 Pull the diaper up, like pants
HOW TO REMOVE?
Simply tear off both the sides and pull the diaper down

HOW TO CLEAN?
Enjoy effortless wiping with unique one touch box
---
Key Benefits 
ALL-ROUND ELASTIC WIDE BAND
It is easy to fit, gentle on skin and its breathable material keeps the child fresh and comfortable.
BREATHABLE COTTON- LIKE COVER
It allows humidity to pass through so that diaper does not feel stuffy even when used for longer duration.
UP TO 12 HOURS OF ABSORPTION*
It absorbs urine and spreads it equally, so diaper does not look heavy and lasts upto 12 hours

ABSORBS UP TO 7 GLASSES OF URINE
Crisscross Absorbent Sheet that spread 7 Glasses of urine equally, does not look heavy.
---
---
Manufacturer/Marketer Address
Unicharm India Private Limited, Main Bazar, Indore-452016, Madhya Pradesh, India