Pampers Diaper Pants Lotion with Aloe Vera
Pampers Diaper Pants Lotion with Aloe Vera
Product Highlights
Pampers baby-dry pants style diapers are the only pants in India with new Air Channels providing your baby a new type of dryness overnight; breathable dryness

Magic Gel that locks wetness away for up to 12 hours of dryness

Flexible waist band that adapts to baby's movements for a comfortable fit

Baby lotion with Aloe Vera helps protect your baby's delicate skin from diaper rash and irritation

A top layer with cotton like soft material, for a comfortable night's sleep

Fun exterior graphics; fun designs & characters to enjoy with your baby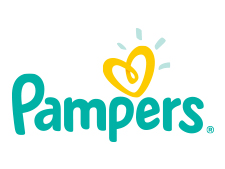 For more than 50 years, Pampers has been inspired by babies. Pampers brand is owned by P&G which has won accolades of being consistent #1 ranking within industry on "Most Admired" list for 25 of 26 total years and for 13 years in a row.
Information about Pampers Baby-Dry Pants Medium Lotion with Aloe Vera
Pampers Baby Dry Pants Diapers are disposable large baby diapers and are effective in shielding the baby's skin from continuous wetness. It also prevents odor from escaping. Now infused with baby lotion that has aloe vera, helps protect your baby's delicate skin from diaper rash and irritation. The new and improved product design enables a comfortable fit, closer to the baby's body and a flexible waist band that adapts to baby's movements for a comfortable fit. A top layer with cotton-like soft material ensure a comfortable night's sleep. Our pants with fun exterior graphics, fun designs and characters ensure you enjoy with your baby.
Salient Features:
Helps protect your baby's delicate skin
Wetness indicator turns blue to show when your baby wets his/ her diaper
Breathable material helps air circulation and allows skin to breathe
Disposal tape enables easy disposal of pants after a change

Available sizes: New born, Small, Medium, Large, Extra Large

Crafted with soft materials to provide all-around softness and comfort 

Stretchy 360 degree waistband and leg cuffs
Direction For Use :

Place your baby on her back on a changing table, washable pad or thick towel. Unfold a clean diaper and lay it to one side
To prevent diaper rash, let the area dry completely before putting on diaper cream and/or a clean diaper
Lift your baby's legs and place the clean, unfolded diaper that you set aside earlier under his bottom
Safety Information:
Do not flush the diaper

Do not use the diaper again

Keep out of the reach of children
---
Manufacturer/Marketer Address

Procter & Gamble, India P&G plaza, Cardinal Gracias Road, Chakala, Andheri (E), Mumbai – 400099